The following are the most widely used business insurance policies:
---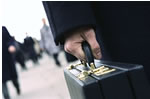 Bodily injury to others
Property damage to property of others
Personal injury claims (libel, slander, defamation of character)
Advertising injury (problems that arise from the way you might advertise your goods or services.

Coverage is applicable to injuries that happen:

On your business premises
Off your premises while you are working
From use of your products by others
From your "completed operations

There are some very important exclusions or restrictions of coverage that we will discuss with you. Many of these restrictions require additional policies to provide coverage.

If you own the building that you operate your business from or in you will want to cover the building from potential damage by loss.

Everyone needs some type of coverage for their business contents, whether they own the building containing the business contents or not.

You might also want to cover the property of others on which you perform work or service. Damage you cause to property that you work on is restricted under your General Liability form.

There are various types of policies that will provide coverage for your building, your contents or property of others. We can identify the coverages that best fit your property needs as well as your pocketbook.

When your business property (building or contents) suffers damage and you are unable to continue your operations you will suffer the following types of losses:

Loss of income created by your inability to conduct your usual operations
Financial loss due to payment of expenses that continue even if your operations are halted
Extra expenses above normal to resume operations as quickly as possible, to let your customers know what happening and more

A special policy is necessary to provide you with reimbursement for these catastrophic losses. Consult us for the coverage that best fits your needs.

Commercial auto coverage is similar to personal auto coverage.

Coverages available are:

Please refer to the Personal lines Personal Auto discussion for more explanation or talk with us for exposure analysis. In addition, consult us for an explanation of important policy exclusions and restrictions.

A state mandatory coverage that provides mandated benefits to employees when they are injured on the job. The policy provides the injured employee with lost wages, medical expenses and rehabilitation expenses. The coverage also protects the employer when sued by the employee for work related injuries. There are some restrictions and exclusions that we can explain to you.

Your employee or potential employee could sue you for such things as:

Wrongful termination
Discrimination
Sexual Harassment and more

These types of claims presented against you are NOT covered under your General Liability or Workers' Compensation policies. You must purchase this separate policy to protect yourself.

A policy that will provide additional liability limits over those that you purchased under your General Liability, Commercial Auto and Workers' Compensation policies. In this suit happy society, one can never know how much coverage is enough, but more is definitely better!

During the course of your professional duties, you might make incorrect decisions or judgments that ultimately cause financial harm or injury to others. Often these losses are NOT covered under your general liability policy. A separate policy to cover "errors and omissions" that you may make during the course of your profession is necessary. A few of the professions needing this coverage include doctors, lawyers, real estate agents and architects. Contact us to determine if you have a *professional liability" exposure in addition to your "general liability" exposure.

A coverage necessary to protect corporate officers, directors, board members or officers, directors and board members of non-profit corporations or associations when sued for decisions or judgments that cause financial harm or injury to others. Again, these types of losses are not covered under your General Liability policy and a separate policy is necessary to protect the individual and personal assets of the officers and directors from loss through court judgments or settlements.

Coverage for bodily injury or property damage that results from pollutants that you might use during the course of your business activities must be covered under a separate policy as the general liability policy excludes such losses. You should discuss any potential pollution exposure that you might have with us.

Other coverages that your business may need include

Flood insurance
Boiler and machinery
Inland marine coverage for "moveable property", mobile equipment, property of others
Boat insurance
Employee dishonesty coverage
Earthquake
In/Out robbery and burglary
Business interruption
Electronic data equipment (computer hardware and software)

Ask us about other insurance not mentioned above.